About Us
Polites Florist offers the finest varieties of fresh beautiful flowers, specimen green and blooming plants,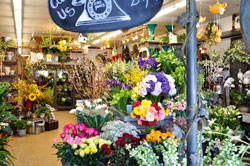 and custom made gourmet fruit and gift baskets.
Our new 4,000 square foot warehouse distribution center with a 15' x 30' refrigerator insures you of quality, freshness and selection unsurpassed in the floriculture industry.
We can create anything, from the simple but elegant to the extravagant design. No order is too small or too large. Give us a try, it would be our pleasure to serve you.

Family Owned and Operated Since 1908!

Springfield Shop Hours:
Monday - Friday: 9 am to 6 pm
Saturday: 9 am to 5 pm
Sunday: Closed

Upper Darby Shop Hours:
Monday - Friday: 8 am to 6 pm
Saturday:- 8 am to 5 pm
Sunday: - 9 am to 3 pm with limited delivery

Polites Florist Satisfaction Guarantee:
If you are not satisfied with your purchase, we will send a replacement. All you need to do is notify us within 5 days of receipt of your order. You may call, come in person, or email us.
We will make every effort to create the floral gifts as pictured on our site, however, unforseen circumstances beyond our control may result in substitutions of containers and/or varieties of flowers without compromising the integrity of the arrangement.
Not all items featured can be wired out of town.